GOOD NEWS! ATTENTION!!! SNBC, with more than 6,000 companies from over 170 countries, will participate in the GITEX GLOBAL 2023, which is the the largest tech show in the world.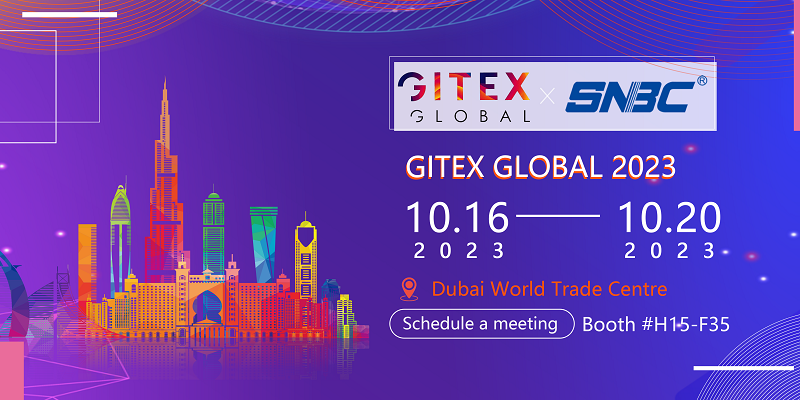 In this GITEX GLOBAL, SNBC will focus on two major industry solutions, including Smart Retail Solution and Smart Banking Solution.
Smart Banking Solution
SNBC smart banking solution has combined cash and non-cash service to release bank account opening, automate cash handling and processing to improve efficiency, reduce costs and release your staff to focus on your customers - increasing the profitability of your branch network.
For cash solutions, SNBC produces cash deposit machine (CDM), cash recycling system (CRS) and so on. Rich in products and complete in functions, it meets the demand for self-service handling of all cash services based on bank cards, passbooks, checks and certificates of deposit, and improves the banking service capability.
For non-cash solutions, teller cash recycler (TCR), check printing/scanning module have been developed by SNBC. These products achieve more than 90% non-cash self-service business, realizing the diversion of counter business and helping the transformation of smart branches.
Smart Retail Solution
SNBC smart retail solution reduces time spent to manage cash in store with higher efficiency. Point of sale cash recycler, bill validator in the front counter and cash deposit machine, teller cash recycler in the back office has improves cash security, reduces the operation cost & time and improves store concept with innovative solution.
For back-office, SNBC provides thermal printer BTP-4200E, TCR, CDM and cash sorter. For front counter, mini recycler, CDM, cash deposit module, bill validator can be applied in this scenario.
At Gitex, you will have the chance to see the core module of cash deposit machine, teller cash recycler, bill validator, passport scanner, thermal printer BTP-S80, BTP-4200E, industrial label printer BTP-7400, and many other types of printers or financial equipment on site. SNBC will conduct live operation demonstrations of these machines. If you have any interests or questions, you can consult us on site.
Welcome to your visit!
DUBAL WORLD TRADE CENTRE
Halls 23 24 25
16-20 OCTOBER
MONDAY 11 AM-5 PM
TUE-FRI 10AM-5 PM
Booth: H15-F35